Shopping in San Francisco - July 26th
Today we switched over from the Holiday Inn Express to the Hyatt across the street, which we booked in Germany for the last two days of our USA-holiday. Franz and Greg rode out for a shopping ride through San Francisco. In the late afternoon they tried to find a very, very small road in Ross (north of SF). At last they succeeded. And the donation for theses efforts was a great BBQ at Carroll and George Yandell's house which we really enjoyed. Thank you very much for the hot and delicious stuff, you offered us and for the time you spent listening to our roadstories. It was a foggy trip outside and it was much foggier when we went back. But we found the Golden Gate Bridge and finally we reached our hotel to have some beer.
Heute war Einkaufsbummel angesagt, und einige gute Ergebnisse konnten wir uns gegenseitig praesentieren, als wir uns gegen halb fuenf Uhr Nachmittag wieder trafen. Der Ausflug zu den Freunden von Detlev Jungfleisch war die Suche nach der Adresse und eine Reise ueber die stuermische, neblige SF-Bay wert. Wir hatten schoene Gespraeche und ein wundervolles Abendessen. Gegen halb elf waren wir gerade noch rechtzeitig wieder zurueck im Hotel, um zwei schnelle Bierchen zu kippen. Danach gingen die Lichter aus. Nur der Internet-Rechner leuchtet noch. Aber nicht mehr lange. Irgendwann muessen auch wir ins Bett. Jetzt!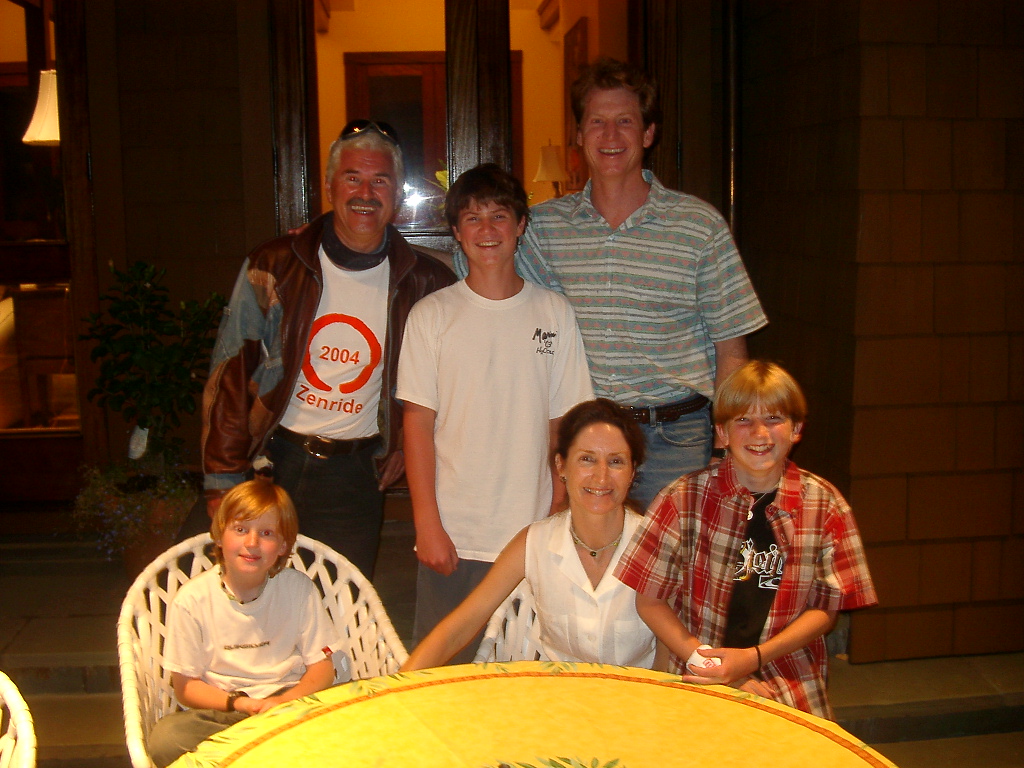 The Yandell Family with Zenrider Franz