Last Day in San Francisco - July 27th
We startet with an american breakfast and then prepared to do the last things we had to do in SF. We removed all our personal things from the saddlebags of our Harleys. After that, we startet to find the hotel, where Mark Richardson will stay at his birthday on the 30th of July. As we promised, we dropped a bottle of red wine there. After that we startet over to the old ZenCenter of SF. That's the place, where Chris was shot. We were invited for lunch there and everybody wanted to hear our stories about the ZENRIDE. It was a quiet place (especially on the roof) where we had time to remind on all those great things which happened to us the last four weeks.
Thank you very much for the invitation and the hospitality at your ZenCenter. We enjoyed it with a tear in our eyes, because this was the last step on our Pirsig-Trip.
We dropped the bike off at Eaglerider in Bryant Street, took a beer and chattet with the guys there. It was a pleasure talking to them and at last they ordered a cab for our trip back to the hotel. We are now cowboys without horses, but we want to mention, that we will write further on in our diary. We also will answer questions about our trip when we are back home in Germany.
Nach unserem Besuch im ZenCenter haben wir auch noch einen Bekannten von Gregor besucht, der einen irren Laden in San Francisco betreibt. Fuer Schauspielerinnen, Schauspieler, Buehnenstars, Transvestiten, Prostituierte und heisse Jungs wird hier jedes nur moegliche Outfit gefertigt und verkauft. Ganz Amerika kauft hier ein, um sich in Szene zu setzen. Ein lustiges, quirliges, interessantes Volk schwirrt hier permanent durch den Laden, in dem es praktisch nichts zum Anziehen gibt, was es nicht gibt. Falls doch, so wird es auf Bestellung geschneidert!
Als wir unsere Bikes abgeben kommt Wehmut auf, aber die Jungs von Eaglerider helfen uns mit einem Bier. Wir schauen noch einmal auf den Tacho: Es sind ueber 4500 Meilen geworden! Zurueck im Hotel machen wir uns ein letztes Mal auf, um Souvenirs einzukaufen und packen dann unsere Klamotten. Wir muessen morgen sehr frueh raus, denn um 7 Uhr wartet schon der Chauffeur auf uns.
Und dann geht es ab nach Germany, back home ....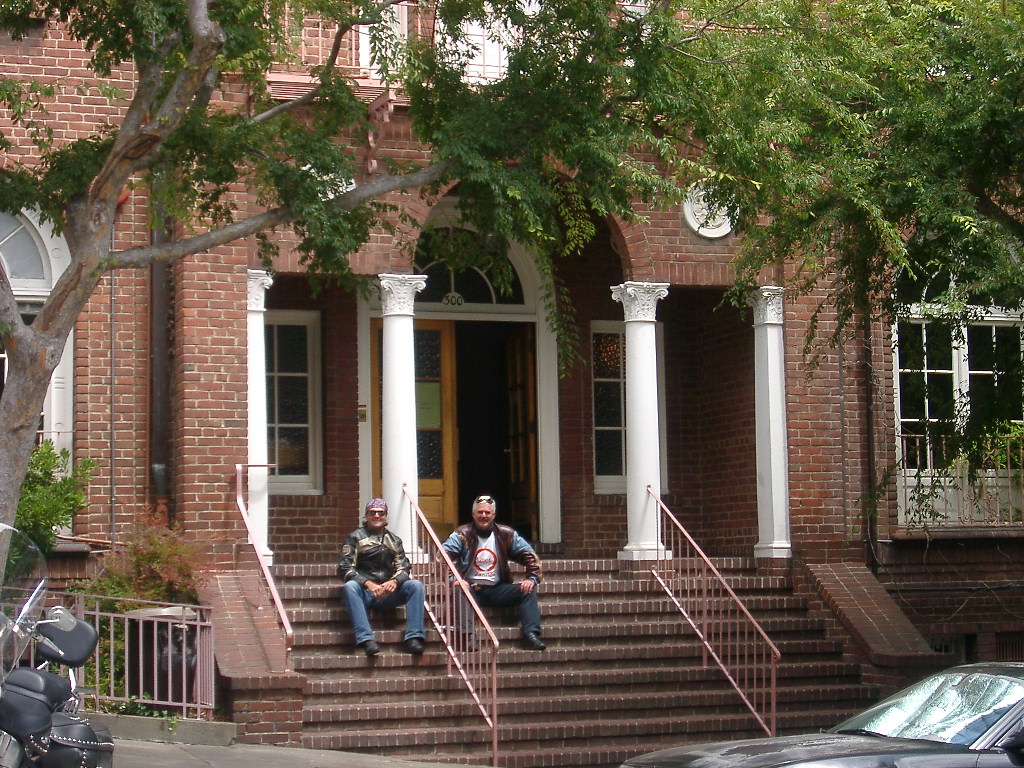 Zwei Zenrider vor und auf dem ZenCenter in San Francisco