Lazy riders - September 21st
Liebe Freunde des Zenrides,
endlich, nach 6 Wochen hat es Gregor nun endlich Zustande gebracht, einen neuen Eintrag in unser Tagebuch zu posten. Es bedurfte jedoch einiger deutlicher und nachdringlicher Antriebsarbeit von Zenrider Franz, ihn endlich in Wallung zu bringen. Dies heisst jedoch nicht, wir wären in der Zwischenzeit nach unserer Heimkunft untätig gewesen. Franz machte noch ein wenig Urlaub von der Tour, muss aber noch einige Zeit auf sein "Bunny" verzichten, da diese zwecks Ausbildung nicht in der Heimat weilt.
Das Gute daran ist, dass er bezüglich unserer Spendenaktion und der Nachbereitung der Tour schon einiges getan hat. Alle Spender bzw. Meilenkäufer sollten ihre Dankschreiben bereits erhalten haben. Wie es mit den Spendenquittungen ablaufen wird, klärt Franz im Moment gerade noch ab. Auf alle Fälle stehen in Bälde die Übergaben der Spenden an die Empfänger an, über deren Terminierung und Durchführung wir uns im Moment noch Gedanken machen.
Gregor darf im Moment fleissig arbeiten und hat durch seinen Besuch in den Staaten seine alte Liebe zum Baseball neu entdeckt. Wie es ihm und dem Team der
www.ingolstadtschanzer.de
ergeht, ist stets aktuell auf deren Homepage nachzulesen. Zudem kann er den Altersvorsprung, den sich Franz während der Tour herausgearbeitet hatte, heute wieder um ein Jahr verkürzen ("Happy Birthday, Greg!").
Dear friends of the Zenride,
finally, after six weeks, Greg made it to post some new lines on the website. Even though it took some serious reminders to make him move. But we can assure you that we have not been completely dronish in the meanwhile. Franz went on vacation for some more weeks to recover from the tour. Unfortunately he still has had to do it without his "Babe" 'coz she is still abroad thanks to educational reasons. But this enabled him to spend quite some time to force the wrap-up of our journey, so that all donators should have gotten a personal letter of thanks. And he is also working on the handovers of the collected money.
Greg on the other hand started to work directly after their delayed return and has rediscovered his old love to the game of Baseball. How he and his teammates are doing can be followed on their website under
www.ingolstadtschanzer.de
. And he resolved to service the diary in a more frequent ratio to keep all of you regularely informed about what we are doing and the aftermath that the tour has directly or indirectly generated positively and negatively. Well there is already on Negative thing.
WANDERLUST, we want more rides, more landscape, more impressions - but here's no prairie, here are no "Winding roads next 77 miles". But we'll find a solution sooner or later ...and we keep you informed.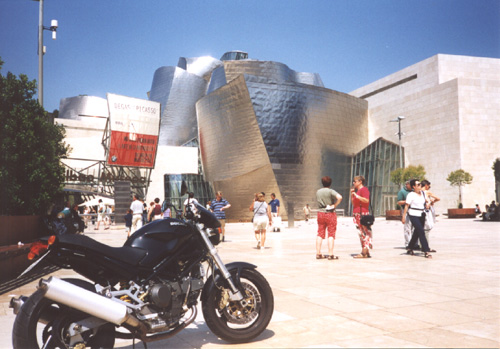 Gregors Mopped in Bilbao vor dem Guggenheim Museum