Happy End 2004 - December 29th
The end of the year 2004 is near and we are both happy and still memorizing our great experiences we made while riding through the States with our Harleys in the summer of 2004. One little dream is not fulfilled yet - Robert Pirsig did not drop a line in our guestbook. But we are still waiting for that moment and we promise that after the signing of Mr. ZMM we will complete a CD-ROM for those who are interested in our tourbook, our pictures and our homepage. If anybody can help us to fulfill our last wish concerning our Zenride 2004, please contact Mr. Pirsig and tell him about our project.
Das Jahr geht zu Ende und die versprochenen Urkunden über die Meilenspenden sind alle versandt. Noch immer denken wir gerne an dieses "experience for life" zurück, welches wir mit unserem Zenride 2004 machen durften. In verschiedenen Zeitungen sind noch letzte Berichte über unsere Charity-Aktion veröffentlich worden, die ja bekanntlich 18.000 Euro für die Organisationen "Weisser Ring", "Ärzte ohne Grenzen" und für das Projekt Südafrika des "Förderverein der FH Ingolstadt" brachte. Allen Spendern und Unterstützern nochmals ein letztes großes DANKESCHÖN!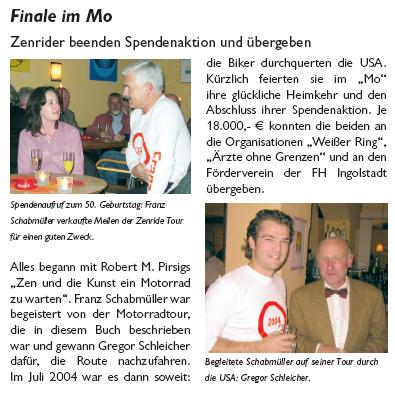 Bericht über die Charity-Party in der "espresso" im Dezember 2004
Die Homepage wird es in den ersten Monaten des neuen Jahres noch weiter geben. Berichte werden allerdings keine mehr erscheinen. Eventuell gibt es allerdings im kommenden Jahr noch eine CD-ROM für alle ZMM-Fans mit dem Inhalt unserer Homepage, vielen zusätzlichen Fotos und weiteren Informationen. Sobald diese erhältlich ist, werden wir auf unserer Homepage darüber berichten. Einstweilen wünschen wir allen unseren Freunden in Europa und Amerika ein
GUTES NEUES JAHR
and a
HAPPY NEW YEAR!
Die Zenrider
Franz und Gregor